Elemental
Track Listings
1. Elemental 5:30
2. Cold 5:05
3. Break It Down Again 4:31
4. Mr. Pessimist 6:16
5. Dog's A Best Friend's Dog 3:38
6. Fish Out Of Water 5:07
7. Gas Giants 2:40
8. Power 5:49
9. Brian Wilson Said 4:22
10. Goodnight Song 3:53
Discography
The Very Best of Tears for Fears
(2006)
Everybody Loves A Happy Ending (2004)
Raoul and the Kings of Spain
(1995)
Elemental
(1993)
The Seeds Of Love
(1989)
Songs From The Big Chair (1985)
The Hurting (1983)
Release Date: (June 22, 1993)
Label: Island/ Def Jam
Producer: Tim Palmer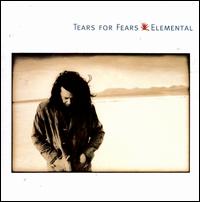 December Hotel
Overall Rating: ++++
(Break It Down Again)
Album Review
Roland on his own as producer, songwriter, and instrumental performer is not something to be afraid of. Given his obsessive tendencies when crafting songs, not having Curt Smith let him write the music he wished to make here (and the solid follow-up Raoul and the Kings of Spain album). Not to say that you will hear something completely different from the band's first three albums: the record is still "Tears for Fears" in sound and spirit.

I am not a fan genres like pop nor new wave, but as a progressive rock fan, I can appreciate when artists experiment within the boundaries of such genres. This album has very strong melodies scattered throughout its 10 tracks as well as a surprising amount of textural depth. For example, the opening track opens with two rhythmical patterns in 4/4 and 5/4 simultaneously, has highly memorable vocal melodies and rich textures. The record occasionally suffers from dated keyboard sounds, but Roland can somehow make brilliant uses of them, particularly with the repetitive keyboard riff dominating the epic sound of "Mr. Pessimist". Do not be alarmed, as he chooses a very colorful palette of sounds that sound very organic and timeless, despite the polished nature of the production.

My favorite track is "Gas Giants", a psychedelic instrumental with an aura of melancholia with great use of multiple layers of keyboards and an improvisational bass guitar. The previously mentioned "Mr Pessimist" is another highlight with a sparse, epic sound and an experimental song structure with lack of a distinctive chorus. The song "Power" also is expertly crafted and benefits from a heavy rock sound. "Brian Wilson Said" chooses to layer itself with multiple vocal tracks and sounds beautiful in a retro sense. Other songs unmentioned are solid in their own way and can sometimes blend to each other.

I recommend this album for listeners who care about top-notch melodies and intelligent songwriting without the usage of avant-garde elements.
Tears For Fears (homepage)